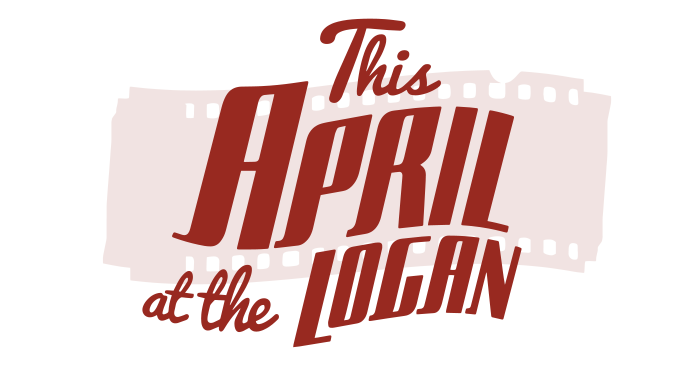 A Late Night at the Logan Series
Tues-Thurs night screenings | Fri-Mon night screenings
Tickets available soon
Featuring a month long set of action Night at the Logan films! Check out the schedule below, and don't miss your chance to see some of these throwbacks on the big screen. Join us early and hang out at our bar or in our Lounge. Partake in something delicious from our special cocktail menu or enjoy any of your favorites from our fully stocked bar.
Robocop (1987) Apr. 3-5 at 10:30 PM
In a dystopic and crime-ridden Detroit, a terminally wounded cop returns to the force as a powerful cyborg haunted by submerged memories.
Director: Paul Verhoeven
Writers: Edward Neumeier, Michael Miner
Cast: Peter Weller, Nancy Allen, Dan O'Herlihy
Country: United States
Rated: R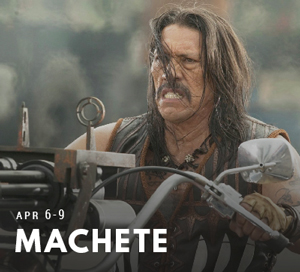 Machete (2010) Apr. 6-9 at 11 PM
After being set-up and betrayed by the man who hired him to assassinate a Texas Senator, an ex-Federale launches a brutal rampage of revenge against his former boss.
Director: Ethan Maniquis, Robert Rodriguez
Writers: Robert Rodriguez, Álvaro Rodríguez
Cast: Danny Trejo, Michelle Rodriguez, Robert De Niro
Country: United States
Rated: R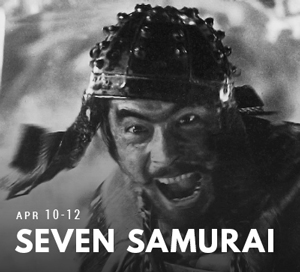 Seven Samurai (1954) Apr. 10-12 at 10:30 PM
A poor village under attack by bandits recruits seven unemployed samurai to help them defend themselves.
Director: Akira Kurosawa
Writers: Akira Kurosawa, Shinobu Hashimoto
Cast: Toshirô Mifune, Takashi Shimura, Keiko Tsushima
Country: Japan
Rated: NR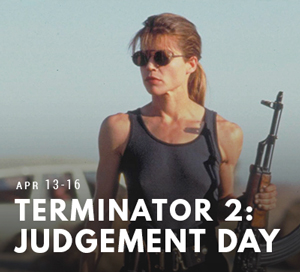 Terminator 2: Judgement Day (1991) Apr. 13-16 at 11 PM
A cyborg, identical to the one who failed to kill Sarah Connor, must now protect her ten year old son, John Connor, from a more advanced cyborg.
Director: James Cameron
Writers: James Cameron, William Wisher
Cast: Arnold Schwarzenegger, Linda Hamilton, Edward Furlong
Country: United States
Rated: R
Predator (1987) Apr. 17-19 at 10:30 PM
A team of commandos on a mission in a Central American jungle find themselves hunted by an extraterrestrial warrior.
Director: John McTiernan
Writers: Jim Thomas, John Thomas
Cast: Arnold Schwarzenegger, Carl Weathers, Kevin Peter Hall
Country: United States | France
Rated: R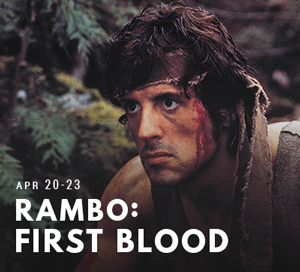 Rambo: First Blood (1982) Apr. 20-23 at 11 PM
Former Green Beret John Rambo is pursued into the mountains near a small town by a tyrannical sheriff forcing him to survive using his combat skills.
Director: Ted Kotcheff
Writers: David Morrell, Michael Kozoll
Cast: Sylvester Stallone, Brian Dennehy, Richard Crenna
Country: United States
Rated: R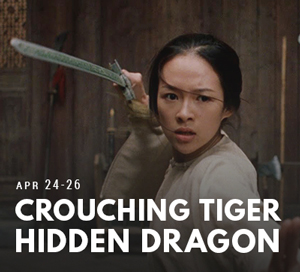 Crouching Tiger, Hidden Dragon (2000) Apr. 24-26 at 10:30 PM
A young Chinese warrior steals a sword from a famed swordsman and then escapes into a world of romantic adventure with a mysterious man in the frontier of the nation.

Director: Ang Lee
Writers: Du Lu Wang, Hui-Ling Wang
Cast: Yun-Fat Chow, Michelle Yeoh, Ziyi Zhang
Country: Taiwan | Hong Kong | USA | China
Rated: PG-13
The Taking of Pelham 123 (1974) Apr. 27-30 at 11 PM
In New York, armed men hijack a subway car and demand a ransom for the passengers. Even if it's paid, how could they get away?
Director: Joseph Sargent
Writers: John Godey (novel), Peter Stone
Cast: Walter Matthau, Robert Shaw, Martin Balsam
Country: United States
Rated: R
Events Overview:
Every Monday, 8:30 PM – Open Mic Comedy (Sign-up at 8 pm)
Every Tuesday, 8 PM – Movie Trivia Night with your hosts, Juli & Jamie!