Tues-Thurs night screenings | Fri-Mon night screenings
Tickets on sale now
Featuring a month long set of must-see Late Night at the Logan films! Check out the schedule below, and don't miss your chance to see some of these classics on the big screen. Join us early and hang out at our bar or in our Lounge. Partake in something delicious from our special cocktail menu or enjoy any of your favorites from our fully stocked bar.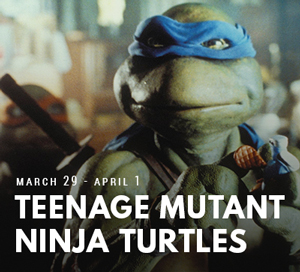 Teenage Mutant Ninja Turtles (1990) Mar 29 - Apr 1 at 11 PM
Four teenage mutant ninja turtles emerge from the shadows to protect New York City from a gang of criminal ninjas.
Director: Steve Barron
Writers Kevin Eastman, Peter Laird
Cast: Judith Hoag, Elias Koteas, Josh Pais
Rated: PG
Runtime: 1h 33min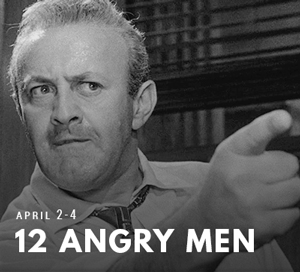 12 Angry Men (1957) Apr 2-4 at 10:30 PM
A jury holdout attempts to prevent a miscarriage of justice by forcing his colleagues to reconsider the evidence.
Director: Sidney Lumet
Writer: Reginald Rose, Reginald Rose
Cast: Henry Fonda, Lee J. Cobb, Martin Balsam
Rated: NR
Runtime: 1h 36min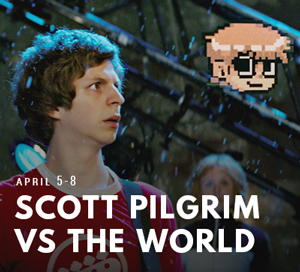 Scott Pilgrim vs The World (2010) Apr 5-8 at 11 PM
Scott Pilgrim must defeat his new girlfriend's seven evil exes in order to win her heart.
Director: Edgar Wright
Writer: Michael Bacall, Edgar Wright
Cast: Michael Cera, Mary Elizabeth Winstead, Kieran Culkin
Rated: PG-13
Runtime: 1h 52min
Machete (2010) Apr 9-11 at 10:30 PM
After being set-up by the man who hired him to kill a senator, an ex-Federale launches revenge against his former boss.
Director: Ethan Maniquis, Robert Rodriguez
Writer: Robert Rodriguez, Álvaro Rodríguez
Cast: Danny Trejo, Michelle Rodriguez, Robert De Niro
Rated: R
Runtime: 1h 45min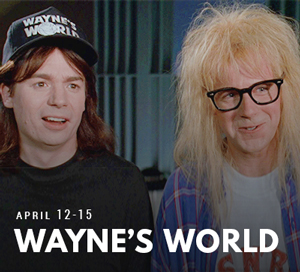 Wayne's World (1992) Apr 12-15 at 11 PM
Two slacker friends try to promote their public-access cable show.
Directors: Penelope Spheeris
Writers: Mike Myers
Cast: Mike Myers, Dana Carvey, Rob Lowe
Rated: PG-13
Runtime: 1h 34min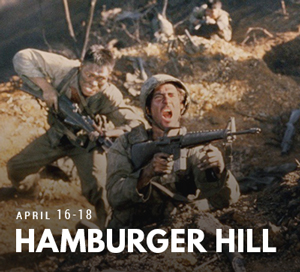 Hamburger Hill (1987) Apr 16-18 at 10:30 PM
A very realistic interpretation of one of the bloodiest battles of the Vietnam War.
Directors: John Irvin
Writers: James Carabatsos
Cast: Anthony Barrile, Michael Boatman, Don Cheadle
Rated: R
Runtime: 1h 50min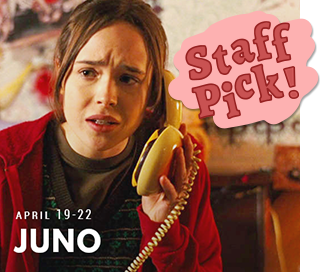 Juno (2007) Apr 19-22 at 11 PM
Faced with an unplanned pregnancy, an offbeat young woman makes an unusual decision regarding her unborn child.
Director: Jason Reitman
Writers: Diablo Cody
Cast: Ellen Page, Michael Cera, Jennifer Garner
Rated: PG-13
Runtime: 1h 36min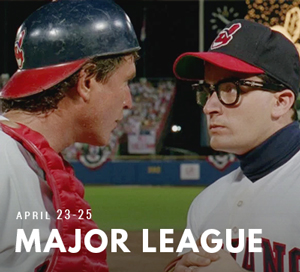 Major League (1989) Apr 23-25 at 10:30 PM
The Cleveland Indians owner puts together a horrible team so they'll lose and she can move the team. But when word gets out, they start winning to spite her.
Writer / Director: David S. Ward
Cast: Tom Berenger, Charlie Sheen, Corbin Bernsen
Rated: R
Runtime: 1h 47min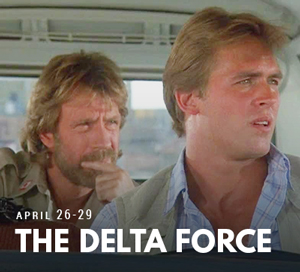 The Delta Force (1986) Apr 26-29 at 11 PM
After a plane is hijacked by terrorists, The Delta Force are sent in to resolve the crisis.

Director: Menahem Golan
Writers: James Bruner, Menahem Golan
Cast: Chuck Norris, Lee Marvin, Martin Balsam
Rated: R
Runtime: 2h 5min
Events Overview:
Every Monday, 8:30 PM – Open Mic Comedy (Sign-up at 8 pm)
Every Tuesday, 8 PM – Movie Trivia Night with your hosts, Juli & Jamie!
Wednesday, April 10, 7 PM – Movie Club: the monthly movie showdown in The Logan Lounge
Wednesday, April 17, 7 PM – Sinema Obscura: meetup for local filmmakers in The Logan Lounge