Tues-Thurs night screenings | Fri-Mon night screenings
Tickets on sale now
Featuring a month long set of must-see Late Night at the Logan films! Check out the schedule below, and don't miss your chance to see some of these classics on the big screen. Join us early and hang out at our bar or in our Lounge. Partake in something delicious from our special cocktail menu or enjoy any of your favorites from our fully stocked bar.
Monty Python's The Meaning of Life (1983) Aug 2-5 at 11 PM
The comedy team takes a look at life in all its stages in their own uniquely silly way.
Director: Terry Jones, Terry Gilliam
Writer: Graham Chapman, John Cleese
Cast: John Cleese, Terry Gilliam, Eric Idle
Rated: R
Runtime: 1h 47min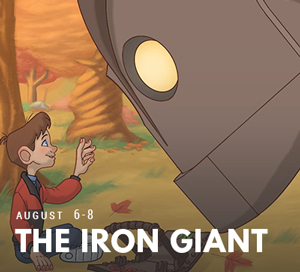 The Iron Giant (1999) Aug 6-8 at 10:30 PM
A young boy befriends a giant robot from outer space that a paranoid government agent wants to destroy.
Director: Brad Bird
Writer: Tim McCanlies, Brad Bird
Cast: Eli Marienthal, Harry Connick Jr., Jennifer Aniston
Rated: PG
Runtime: 1h 26min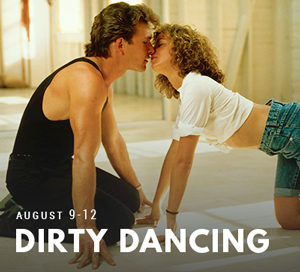 Dirty Dancing (1987) Aug 9-12 at 11 PM
Spending the summer at a Catskills resort with her family, Frances "Baby" Houseman falls in love with the camp's dance instructor, Johnny Castle.
Director: Emile Ardolino
Writer: Eleanor Bergstein
Cast: Patrick Swayze, Jennifer Grey, Jerry Orbach
Rated: PG-13
Runtime: 1h 40min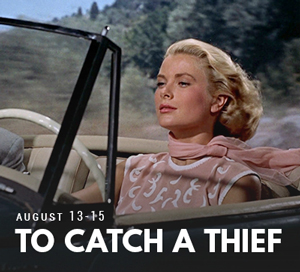 To Catch a Thief (1955) Aug 13-15 at 10:30 PM
A retired jewel thief sets out to prove his innocence after being suspected of returning to his former occupation.
Directors: Alfred Hitchcock
Writers: John Michael Hayes, David Dodge
Cast: Cary Grant, Grace Kelly, Jessie Royce Landis
Rated: PG
Runtime: 1h 46min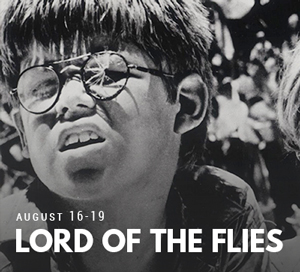 Lord of the Flies (1963) Aug 16-19 at 11 PM
Lost on an island, young survivors of a plane crash eventually revert to savagery despite the few rational boys' attempts to prevent that.
Film Director: Peter Brook
Writers: William Golding
Cast: James Aubrey, Tom Chapin, Hugh Edwards
Rated: NR
Runtime: 1h 32min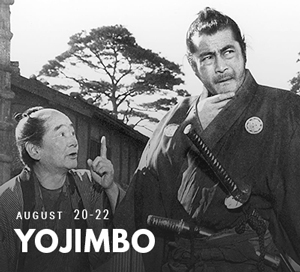 Yojimbo (1961) Aug 20-22 at 10:30 PM
A crafty ronin comes to a town divided by two criminal gangs and decides to play them against each other to free the town.
Writer: Akira Kurosawa
Director: Akira Kurosawa
Cast: Toshirô Mifune, Eijirô Tôno, Tatsuya Nakadai
Rated: NR
Runtime: 1h 50min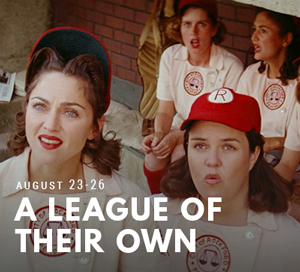 A League of Their Own (1992) Aug 23-26 at 11 PM
Two sisters join the first female professional baseball league and struggle to help it succeed amidst their own growing rivalry.

Director: Penny Marshall
Writers: Kim Wilson, Kelly Candaele
Cast: Tom Hanks, Geena Davis, Lori Petty
Rated: PG
Runtime: 2h 8min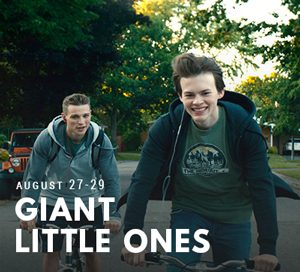 Giant Little Ones (2018) Aug 27-29 at 10:30 PM
Two popular teen boys, discover their lives dramatically upended after an unexpected incident occurs on the night of a 17th birthday party.

Director: Keith Behrman
Writers: Keith Behrman
Cast: Josh Wiggins, Darren Mann, Kyle MacLachlan
Rated: R
Runtime: 1h 33min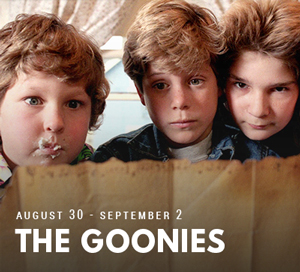 The Goonies (1985) Aug 30 - Sep 2 at 11 PM
A group of young misfits who call themselves The Goonies discover an ancient map and set out on a quest to find a legendary pirate's long-lost treasure.

Director: Richard Donner
Writers: Chris Columbus, Steven Spielberg
Cast: Sean Astin, Josh Brolin, Jeff Cohen
Rated: PG
Runtime: 1h 54min
Events Overview:
Every Monday, 8:30 PM – Open Mic Comedy (Sign-up at 8 pm)
Every Tuesday, 8 PM – Movie Trivia Night with your hosts, Juli & Jamie!
Wednesday, August 14, 7 PM – Movie Club: the monthly movie showdown in The Logan Lounge
Wednesday, August 21, 7 PM – Sinema Obscura: meetup for local filmmakers in The Logan Lounge