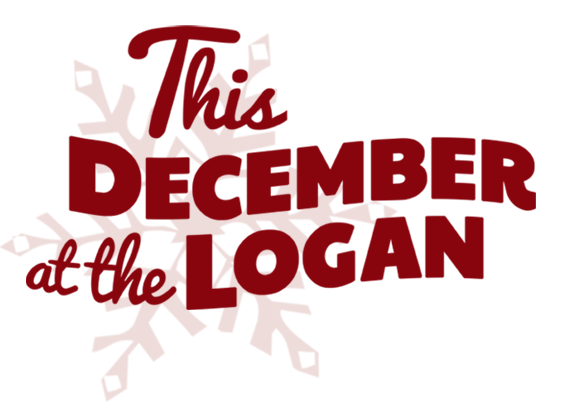 An annual Late Night at the Logan Series
Tues-Thurs night screenings | Fri-Mon night screenings
Tickets coming soon
Come cozy up with some holiday mischief! Check out the schedule below, and don't miss your chance to see some of these holiday favorites on the big screen. Come early and hang out at our bar or in our Lounge! Partake in something delicious from our special cocktail menu or enjoy any of your favorites from our fully stocked bar.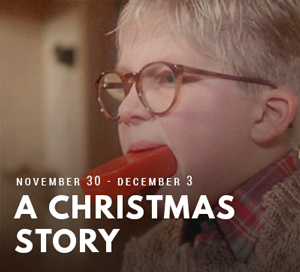 A Christmas Story (1983) Nov 30 - Dec 3 at 11 PM
The comic mishaps and adventures Ralph trying to convince his parents, teachers, and Santa that a B.B. gun really is the perfect Christmas gift for the 1940s.
Director: Bob Clark
Writer: Jean Shepherd
Cast: Peter Billingsley, Melinda Dillon, Darren McGavin
Country: United States | Canada
Rated: PG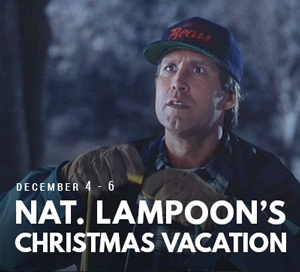 Nat. Lampoon's Christmas Vacation (1989) Dec 4-6 at 10:30 PM
The Griswolds are preparing for Christmas. Clark's bad luck is worsened by obnoxious guests, but he manages to keep on knowing that his Christmas bonus is due.
Director: Jeremiah Chechik
Writer: John Hughes
Cast: Chevy Chase, Beverly D'Angelo, Juliette Lewis
Country: United States
Rated: PG-13
Gremlins (1984) Dec 7-10 at 11 PM
A boy inadvertently breaks three important rules concerning his new pet and unleashes a horde of malevolently mischievous monsters on a small town.
Director: Joe Dante
Writer: Chris Columbus
Cast: Zach Galligan, Phoebe Cates, Hoyt Axton
Country: United States
Rated: PG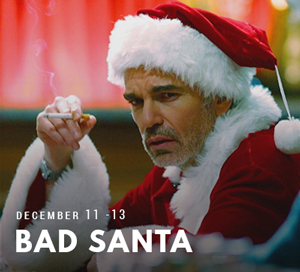 Bad Santa (2003) Dec 11-13 at 10:30 PM
A conman poses as Santa to rob department stores on Christmas Eve, later running into trouble by befriending a troubled kid.
Director: Terry Zwigoff
Writers: Glenn Ficarra, John Requa
Cast: Billy Bob Thornton, Bernie Mac, Lauren Graham
Country: United States / Germany
Rated: R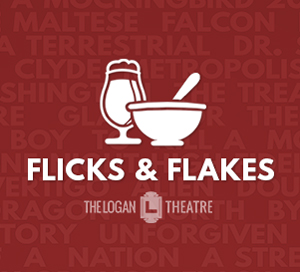 Flicks & Flakes Dec 16, Noon to 4 PM
LoganSquarist presents Flicks & Flakes: The Logan Lounge's monthly binge eating and binge watching event! This time it's Firfly Edition with a complimentary cereal bar, bingo, trivia, and drink specials!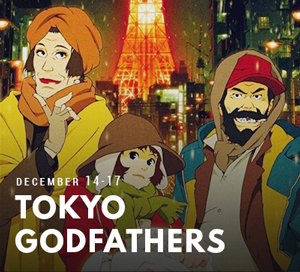 Tokyo Godfathers (2003) Dec 14-17 at 11 PM
On Christmas Eve, three homeless people living on the streets of Tokyo find a newborn baby among the trash and set out to find its parents.
Directors: Satoshi Kon, Shôgo Furuya
Writer: Satoshi Kon
Cast: Tôru Emori, Yoshiaki Umegaki, Aya Okamoto
Country: Japan
Rated: PG-13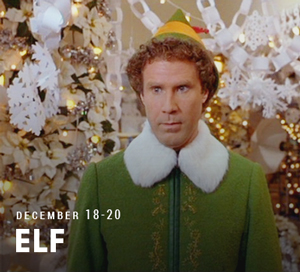 Elf (2003) Dec 18-20 at 10:30 PM
After inadvertently wreaking havoc on the elf community due to his ungainly size, a man raised as an elf at the North Pole is sent to the U.S. in search of his true identity.
Director: Jon Favreau
Writers: David Berenbaum
Cast: Will Ferrell, James Caan, Bob Newhart
Country: United States
Rated: PG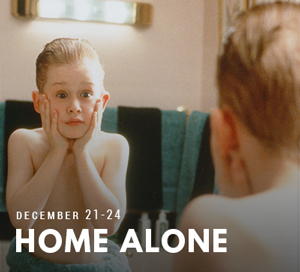 Home Alone (1990) Dec 21-23 at 11 PM, Dec 24 at 11:30 AM and 9 PM
An eight-year-old troublemaker must protect his house from a pair of burglars when he is accidentally left home alone by his family during Christmas vacation.
Director: Chris Columbus
Writer: John Hughes
Cast: Macaulay Culkin, Joe Pesci, Daniel Stern
Country: United States
Rated: PG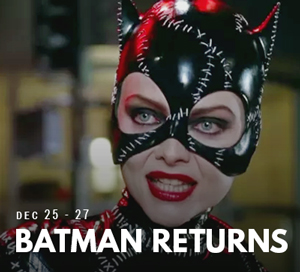 Batman Returns (1992) Dec 25-27 at 10:30 PM
When a corrupt businessman and the grotesque Penguin plot to take control of Gotham City, only Batman can stop them, while the Catwoman has her own agenda.

Director: Tim Burton
Writers: Bob Kane, Daniel Waters
Cast: Michael Keaton, Danny DeVito, Michelle Pfeiffer
Country: United States | United Kingdom
Rated: PG-13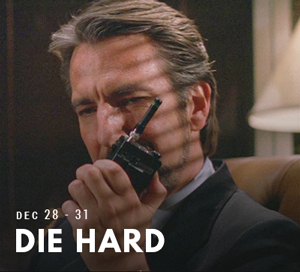 Die Hard (1988) Dec 28-31 at 11 PM
John McClane, tries to save his wife and several others that were taken hostage by a German terrorist during a Christmas party at the Nakatomi Plaza in Los Angeles.

Director: John McTiernan
Writers: Roderick Thorp, Jeb Stuart
Cast: Bruce Willis, Alan Rickman, Bonnie Bedelia
Country: United States
Rated: R
Events Overview:
Every Monday, 8:30 PM – Open Mic Comedy (Sign-up at 8 pm)
Every Tuesday, 8 PM – Movie Trivia Night with your hosts, Juli & Jamie!
Saturday, December 1, 3 PM – Family Matinee: Charlie Brown Christmas Sponsored by PLAY
Friday, December 14, 8 PM – Japanese Christmas Party + Tokyo Godfathers
Sunday, December 16, Noon to 4 PM – Flicks & Flakes Cereal and Bingo
Wednesday, December 19, 7 PM – Sinema Obscura
Thursday, December 27, 7 PM – Project Vida Speed Dating
These December events are brought to you by the Logan Theatre and the following partners: