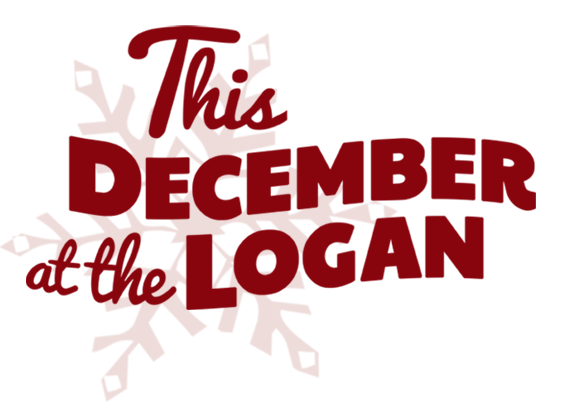 A Late Night at the Logan Series
Tues-Thurs night screenings | Fri-Mon night screenings
Tickets coming soon
Come cozy up with some holiday mischief! Check out the schedule below, and don't miss your chance to see some of these holiday favorites on the big screen. Come early and hang out at our bar or in our Lounge! Partake in something delicious from our special cocktail menu or enjoy any of your favorites from our fully stocked bar.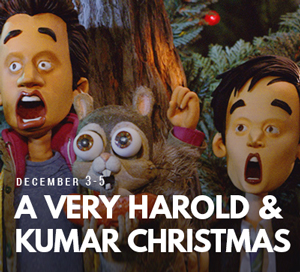 A Very Harold & Kumar Christmas (2011) Dec 3-5 at 10:30 PM
Six years after their Guantanamo Bay adventure, Harold and Kumar cause a holiday fracas by inadvertently burning down Harold's father-in-law's prize Christmas tree..
Director: Todd Strauss-Schulson
Writer: Jon Hurwitz, Hayden Schlossberg
Cast: Kal Penn, John Cho, Neil Patrick Harris
Runtime: 1hr 30min
Rated: R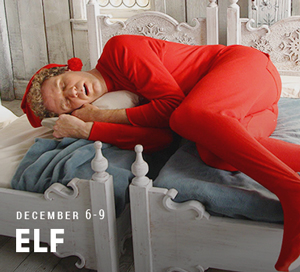 Elf (2003) Dec 6-9 at 11 PM
After inadvertently wreaking havoc on the elf community due to his ungainly size, a man raised as an elf at the North Pole is sent to the U.S. in search of his true identity.
Director: Jon Favreau
Writers: David Berenbaum
Cast: Will Ferrell, James Caan, Bob Newhart
Runtime: 1hr 37min
Rated: PG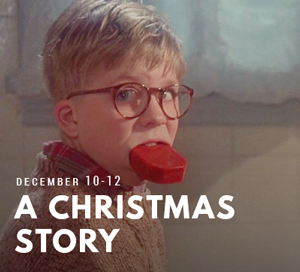 A Christmas Story (1983) Dec 10-12 at 10:30 PM
The comic mishaps and adventures Ralph trying to convince his parents, teachers, and Santa that a B.B. gun really is the perfect Christmas gift for the 1940s.
Director: Bob Clark
Writer: Jean Shepherd
Cast: Peter Billingsley, Melinda Dillon, Darren McGavin
Runtime: 1hr 34min
Rated: PG
Gremlins (1984) Dec 13-16 at 11 PM
A boy inadvertently breaks three important rules concerning his new pet and unleashes a horde of malevolently mischievous monsters on a small town.
Director: Joe Dante
Writer: Chris Columbus
Cast: Zach Galligan, Phoebe Cates, Hoyt Axton
Runtime: 1hr 46min
Rated: PG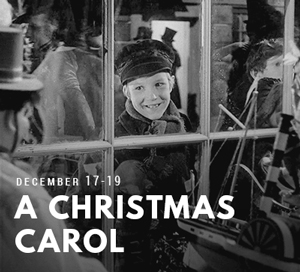 A Christmas Carol (1951) Dec 17-19 at 10:30 PM
On Christmas Eve, Ebenezer Scrooge is visited by a series of spirits warning him to change his ways or face the consequences in the afterlife.
Director: Brian Desmond Hurst
Writers: Charles Dickens, Noel Langley
Cast: Alastair Sim, Jack Warner, Kathleen Harrison
Runtime: 1hr 26min
Rated: PG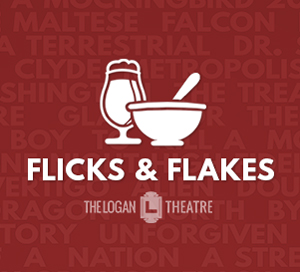 Flicks & Flakes Dec 15, Noon to 4 PM
LoganSquarist presents Flicks & Flakes: The Logan Lounge's monthly binge eating and binge watching event! This time it's Firfly Edition with a complimentary cereal bar, bingo, trivia, and drink specials!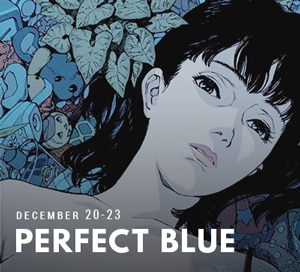 Perfect Blue (1997) Dec 20-23 at 11 PM
A retired pop singer turned actress' sense of reality is shaken when she is stalked by an obsessed fan and seemingly a ghost of her past.
Directors: Satoshi Kon
Writer: Sadayuki Murai, Yoshikazu Takeuchi
Cast: Junko Iwao, Rica Matsumoto, Shinpachi Tsuji
Runtime: 1hr 21min
Rated: R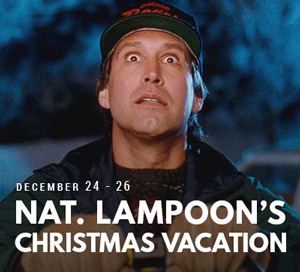 Nat. Lampoon's Christmas Vacation (1989) Dec 24-26 at 10:30 PM
The Griswolds are preparing for Christmas. Clark's bad luck is worsened by obnoxious guests, but he manages to keep on knowing that his Christmas bonus is due.
Director: Jeremiah Chechik
Writer: John Hughes
Cast: Chevy Chase, Beverly D'Angelo, Juliette Lewis
Runtime: 1hr 37min
Rated: PG-13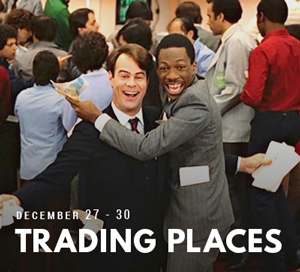 Trading Places (2003) Dec 27-30 at 11 PM
A snobbish investor and a wily street con artist find their positions reversed as part of a bet by two callous millionaires.
Director: John Landis
Writers: Timothy Harris, Herschel Weingrod
Cast: Eddie Murphy, Dan Aykroyd, Ralph Bellamy
Runtime: 1hr 56min
Rated: R
Events Overview:
Every Monday, 8:30 PM – Open Mic Comedy (Sign-up at 8 pm)
Every Tuesday, 8 PM – Movie Trivia Night with your hosts, Juli & Jamie!
Saturday, December 7, 3 PM – Family Matinee: Charlie Brown Christmas + Rugrats Chanukah Sponsored by PLAY
Wednesday, December 11, 7 PM – Movie Club!
Sunday, December 15, Noon to 4 PM – Flicks & Flakes Cereal and Bingo
Wednesday, December 18, 7 PM – Sinema Obscura
Thursday, December 19, 7 PM – Project Vida Speed Dating for Gay Men
These December events are brought to you by the Logan Theatre and the following partners: