Tues-Thurs night screenings | Fri-Mon night screenings
Tickets coming soon
Happy New Year! We're back in action and here to highlight some must-see comedies as we kick off 2020. Check out the schedule below, we want you all to catch them! Come early and hang out at our bar or in our Lounge. Partake in something delicious from our special cocktail menu or enjoy any of your favorites from our fully stocked bar.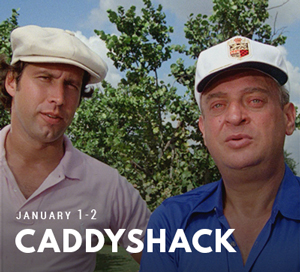 Caddyshack (1980) Jan 1-2 at 10:30 PM
An exclusive golf course has to deal with a brash new member and a destructive dancing gopher.
Director: Harold Ramis
Writers: Brian Doyle-Murray, Harold Ramis
Cast: Chevy Chase, Rodney Dangerfield, Bill Murray
Runtime: 1hr 38min
Rated: R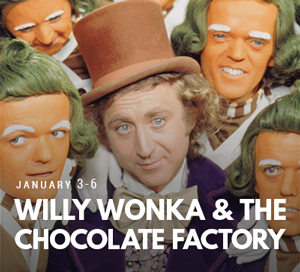 Willy Wonka & the Chocolate Factory (1971) Jan 3-6 at 11 PM
A poor but hopeful boy seeks one of the five coveted golden tickets that will send him on a tour of Willy Wonka's mysterious chocolate factory.
Director: Mel Stuart
Writer: Roald Dahl
Cast: Gene Wilder, Jack Albertson, Peter Ostrum
Runtime: 1hr 40min
Rated: G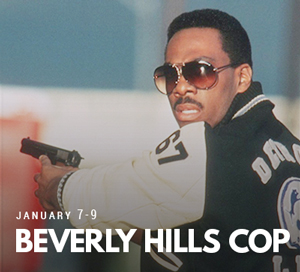 Beverly Hills Cop (1984) Jan 7-9 at 10:30 PM
A freewheeling Detroit cop pursuing a murder investigation finds himself dealing with the very different culture of Beverly Hills.
Director: Martin Brest
Writers: Daniel Petrie Jr., Danilo Bach
Cast: Eddie Murphy, Judge Reinhold, John Ashton
Runtime: 1hr 45min
Rated: R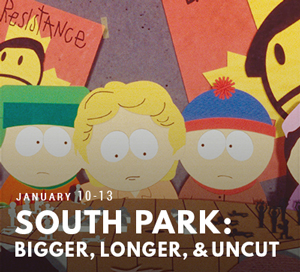 South Park: Bigger Louder, & Uncut (1999) Jan 10-13 at 11 PM
When Cartman and his friends go see an R rated movie, they start cursing and their parents think that Canada is to blame.
Director: Trey Parker
Writers: Trey Parker, Matt Stone
Cast: Trey Parker, Matt Stone, Mary Kay Bergman
Runtime: 1hr 21min
Rated: R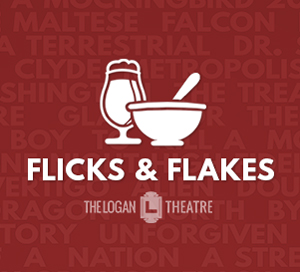 Flicks & Flakes Jan 12, Noon to 4 PM
LoganSquarist presents Flicks & Flakes: The Logan Lounge's monthly binge eating and binge watching event with a complimentary cereal bar, bingo, trivia, and drink specials!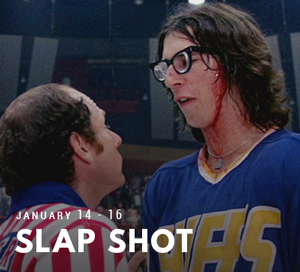 Slap Shot (1977) Jan 14-16 at 10:30 PM
A failing ice hockey team finds success with outrageously violent hockey goonery.
Director: George Roy Hill
Writer: Nancy Dowd
Cast: Paul Newman, Michael Ontkean, Strother Martin
Runtime: 2hr 3min
Rated: R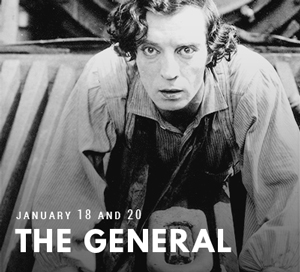 The General (1926) Jan 18th and 20th at 11 PM
When Union spies steal an engineer's beloved locomotive, he pursues it single-handedly and straight through enemy lines.
Director: Clyde Bruckman, Buster Keaton
Writers: Buster Keaton, Clyde Bruckman
Cast: Buster Keaton, Marion Mack, Glen Cavender
Runtime: 1hr 7min
Rated: G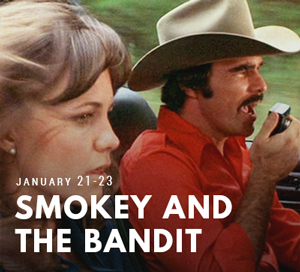 Smokey & the Bandit (1977) Jan 21-23 at 10:30 PM
The Bandit is hired on to run a tractor trailer full of beer over state lines, in hot pursuit by a pesky sheriff.
Director: Hal Needham
Writers: Hal Needham, Robert L. Levy
Cast: Burt Reynolds, Sally Field, Jerry Reed
Runtime: 1hr 36min
Rated: PG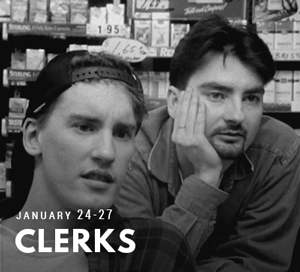 Clerks (1994) Jan 24-27 at 11 PM
A day in the lives of two convenience clerks named Dante and Randal as they annoy customers, discuss movies, and play hockey on the store roof.

Director: Kevin Smith
Writer: Kevin Smith
Cast: Brian O'Halloran, Jeff Anderson, Marilyn Ghigliotti
Runtime: 1hr 32min
Rated: R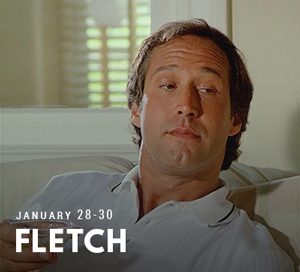 Fletch (1985) Jan 28-30 at 10:30 PM
Fletch is a newspaper reporter being offered a large sum to off a cancerous millionaire, but is on the run, risking his job and finding clues that the man is healthy.

Director: Michael Ritchie
Writers: Gregory McDonald, Andrew Bergman
Cast: Chevy Chase, Joe Don Baker, Dana Wheeler-Nicholson
Runtime: 1hr 38min
Rated: PG
Events Overview:
Every Monday, 8:30 PM – Open Mic Comedy (Sign-up at 8 pm)
Every Tuesday, 8 PM – Movie Trivia Night with your hosts, Juli & Jamie!
Sunday, January 12, Noon to 4 PM – Flicks & Flakes Cereal and Bingo
Wednesday, January 1, 7 PM – Sinema Obscura

These January events are brought to you by the Logan Theatre and the following partners: