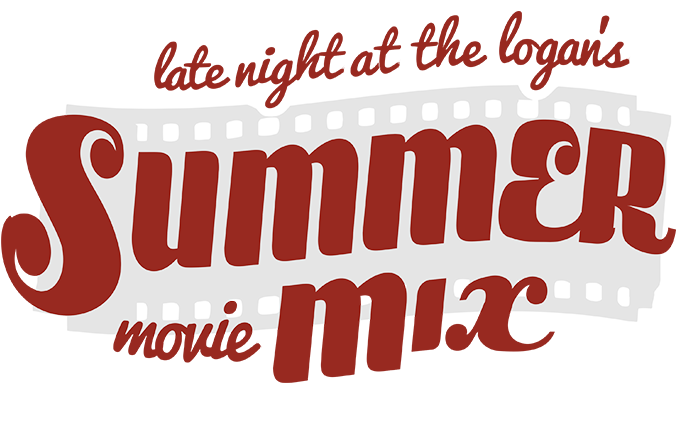 A Late Night at the Logan Series
Tues-Thurs night screenings | Fri-Mon night screenings
Tickets are $9 and available now
Featuring a month long set of must-see Late Night at the Logan films! Check out the schedule below, and don't miss your chance to see some of these knockout musicals on the big screen. Join us early and hang out at our bar or in our Lounge. Partake in something delicious from our special cocktail menu or enjoy any of your favorites from our fully stocked bar.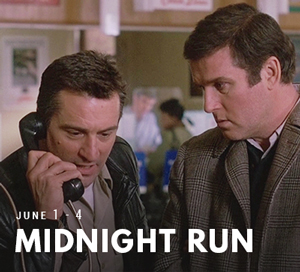 Midnight Run (1988) Jun 1-4 at 11 PM
An accountant is chased by bounty hunters, the F.B.I., and the Mafia after jumping bail..
Director: Martin Brest
Writer: George Gallo
Cast: Robert De Niro, Charles Grodin, Yaphet Kotto
Country: United States
Rated: R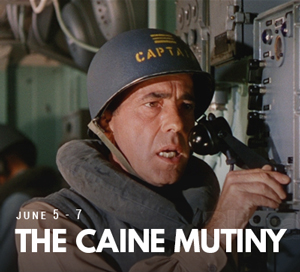 The Caine Mutiny (1954) Jun 5-7 at 10:30 PM
When a U.S. Naval captain shows signs of mental instability that jeopardizes the ship, the first officer relieves him of command and faces court martial for mutiny.
Director: Edward Dmytryk
Writers: Stanley Roberts, Michael Blankfort, Herman Wouk
Cast: Humphrey Bogart, José Ferrer, Van Johnson
Country: United States
Rated: NR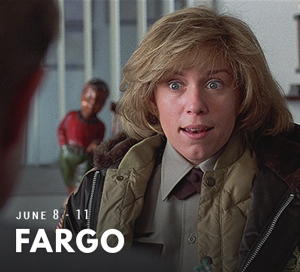 Fargo (1996) Jun 8-11 at 11 PM
Jerry Lundegaard's inept crime falls apart due to his and his henchmen's bungling and the persistent police work of the quite pregnant Marge Gunderson.
Director: Joel Coen, Ethan Coen
Writers: Ethan Coen, Joel Coen
Cast: William H. Macy, Frances McDormand, Steve Buscemi
Country: United States | United Kingdom
Rated: R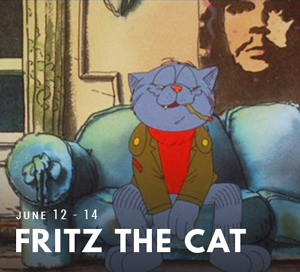 Fritz the Cat (1972) Jun 12-14 at 10:30 PM
A hypocritical swinging college student cat raises hell in a satiric vision of various elements on the 1960s.
Director: Ralph Bakshi
Writers: Ralph Bakshi
Cast: Skip Hinnant, Rosetta LeNoire, John McCurry
Country: United States
Rated: X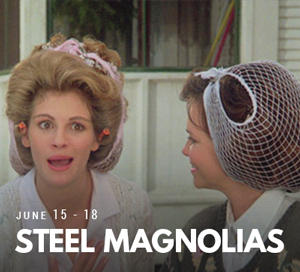 Steel Magnolias (1989) Jun 15-18 at 11 PM
A young beautician, newly arrived in a small Louisiana town, finds work at the local salon, where a small group of women share a close bond of friendship, and welcome her into the fold.
Director: Herbert Ross
Writers: Robert Harling
Cast: Shirley MacLaine, Olympia Dukakis, Sally Field
Country: United States
Rated: PG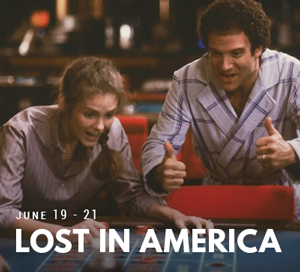 Lost in America (1985) Jun 19-21 at 10:30 PM
A husband and wife in their 30s decide to quit their jobs, live as free spirits and cruise America in a Winnebago.
Director: Albert Brooks
Writers: Albert Brooks, Monica Mcgowan Johnson
Cast: Albert Brooks, Julie Hagerty, Sylvia Farrel
Country: United States
Rated: R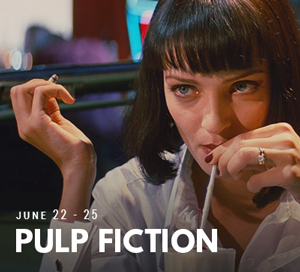 Pulp Fiction (1994) Jun 22-25 at 10:30 PM
The lives of two mob hitmen, a boxer, a gangster's wife, and a pair of diner bandits intertwine in four tales of violence and redemption.

Director: Quentin Tarantino
Writers: Quentin Tarantino, Roger Avary
Cast: John Travolta, Uma Thurman, Samuel L. Jackson
Country: United States
Rated: R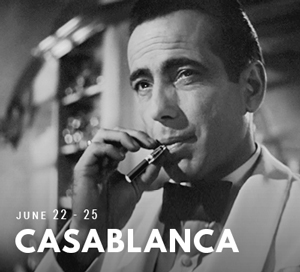 Casablanca (1942) Jun 22-25 at 11 PM
A cynical nightclub owner protects an old flame and her husband from Nazis in Morocco.
Film Director: Michael Curtiz
Writers: Julius J. Epstein, Philip G. Epstein
Cast: Humphrey Bogart, Ingrid Bergman, Paul Henreid
Country: United States
Rated: PG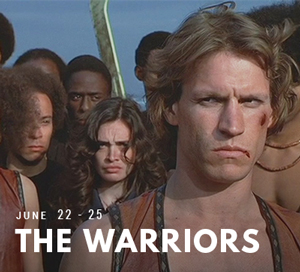 The Warriors (1979) Jun 22-25 at 11:30 PM
A charismatic leader summons the gangs of NYC in a bid to take it over. When he is killed, The Warriors are falsely blamed and must fight their way home while every other gang hunts them down.
Director: Walter Hill
Writers: Sol Yurick, David Shaber
Cast: Michael Beck, James Remar, Dorsey Wright
Country: United States
Rated: R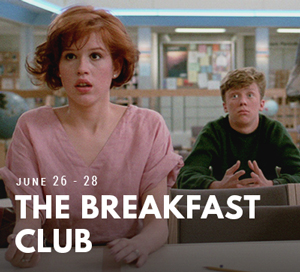 The Breakfast Club (1985) Jun 26-28 at 10:30 PM
Five high school students meet in Saturday detention and discover how they have a lot more in common than they thought.
Director: John Hughes
Writers: John Hughes
Cast: Emilio Estevez, Judd Nelson, Molly Ringwald
Country: United States
Rated: R
Back to the Future (1985) Jun 29 - Jul 2 at 11 PM
Marty McFly, a 17-year-old high school student, is accidentally sent thirty years into the past in a time-traveling DeLorean invented by his close friend, the maverick scientist Doc Brown.
Director: Robert Zemeckis
Writers: Robert Zemeckis, Bob Gale
Cast: Michael J. Fox, Christopher Lloyd, Lea Thompson
Country: United States
Rated: PG
Events Overview:
Every Monday, 8:30 PM – Open Mic Comedy (Sign-up at 8 pm)
Every Tuesday, 8 PM – Movie Trivia Night with your hosts, Juli & Jamie!
Coming soon: