A Late Night at the Logan Series
Tues-Thurs night screenings | Fri-Mon night screenings
Tickets are $9 and available now
Featuring a month long set of must-see Late Night at the Logan films! Check out the schedule below, and don't miss your chance to see some of these groundbreaking standouts on the big screen. Join us early and hang out at our bar or in our Lounge. Partake in something delicious from our special cocktail menu or enjoy any of your favorites from our fully stocked bar.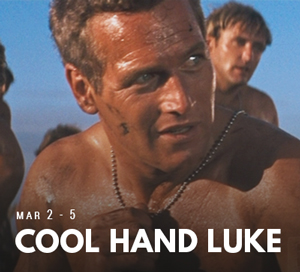 Cool Hand Luke (1967) Mar. 2-5 at 11 PM
A laid back Southern man is sentenced to two years in a rural prison, but refuses to conform.
Director: Stuart Rosenberg
Writer: Donn Pearce (screenplay), Frank Pierson
Cast: Paul Newman, George Kennedy, Strother Martin
Country: United States
Rated: GP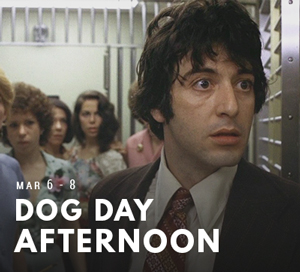 Dog Day Afternoon (1975) Mar. 6-8 at 10:30 PM
A man robs a bank to pay for his lover's operation; it turns into a hostage situation and a media circus.
Director: Sidney Lumet
Writers: Frank Pierson (screenplay), P.F. Kluge
Cast: Al Pacino, John Cazale, Penelope Allen
Country: United States
Rated: R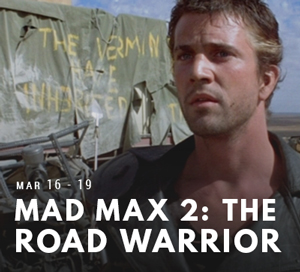 Mad Max: The Road Warrior (1981) Mar. 9-12 at 11 PM
In the post-apocalyptic Australian wasteland, a cynical drifter agrees to help a small, gasoline rich, community escape a band of bandits.
Director: George Miller
Writers: Terry Hayes, George Miller
Cast: Mel Gibson, Bruce Spence, Michael Preston
Country: Austrailia
Rated: R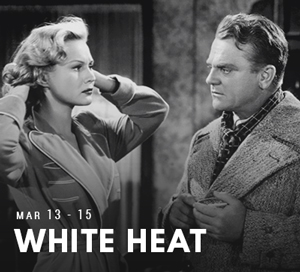 White Heat (1949) Mar. 13-15 at 10:30 PM
A psychopathic criminal makes a daring break from prison and leads his old gang in a chemical plant payroll heist. Shortly after the plan takes place, events take a crazy turn.
Director: Raoul Walsh
Writers: Ivan Goff (screen play), Ben Roberts
Cast: James Cagney, Virginia Mayo, Edmond O'Brien
Country: United States
Rated: NR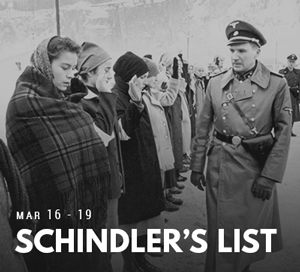 Schindler's List (1993) Mar. 16-19 at 11 PM
In German-occupied Poland during World War II, Oskar Schindler becomes concerned for his Jewish workforce after witnessing their persecution by the Nazi Germans.
Director: Steven Spielberg
Writers: Thomas Keneally, Steven Zaillian
Cast: Liam Neeson, Ralph Fiennes, Ben Kingsley
Country: United States
Rated: R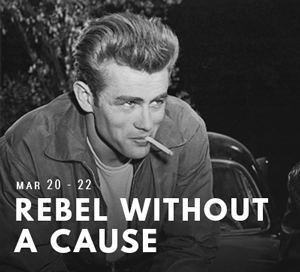 Rebel Without A Cause (1955) Mar. 20-22 at 10:30 PM
A rebellious young man with a troubled past comes to a new town, finding friends and enemies.
Director: Nicholas Ray
Writers: Stewart Stern (screen play), Irving Shulman
Cast: James Dean, Natalie Wood, Sal Mineo
Country: United States
Rated: PG-13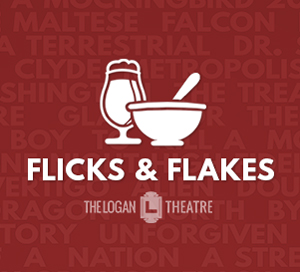 Flicks & Flakes: Friends Bingo Mar. 18 at Noon
The Logan Lounge's monthly binge eating and binge watching event with $5 mimosas and a free cereal bar! This time we're talking Community!
- Sign-up at noon
- Bring a team or fly solo
- Play Bingo and Trivia
- Win prizes
RSVP on Facebook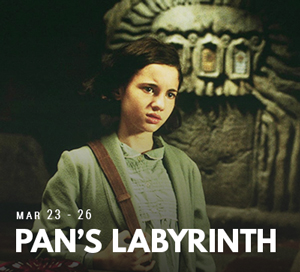 Pan's Labyrinth (2006) Mar. 23-26 at 11 PM
In the falangist Spain of 1944, the bookish young stepdaughter of a sadistic army officer escapes into an eerie but captivating fantasy world.

Director: Guillermo del Toro
Writers: Guillermo del Toro
Cast: Ivana Baquero, Ariadna Gil, Sergi López
Country: Spain | Mexico | USA
Rated: R
Stalag 17 (1953) Mar. 27-29 at 10:30 PM
When two escaping American World War II prisoners are killed, the German P.O.W. camp barracks black marketeer, J.J. Sefton, is suspected of being an informer.
Director: Billy Wilder
Writers: Billy Wilder, Edwin Blum
Cast: William Holden, Don Taylor, Otto Preminger
Country: United States
Rated: NR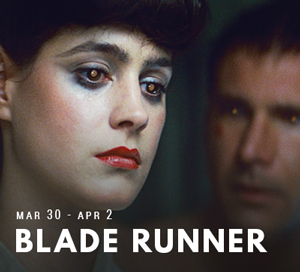 Blade Runner (1982) Mar. 30 - Apr 2 at 11 PM
A blade runner must pursue and try to terminate four replicants who stole a ship in space and have returned to Earth to find their creator.
Director: Ridley Scott
Writers: Hampton Fancher, David Webb Peoples
Cast: Harrison Ford, Rutger Hauer, Sean Young
Country: United States / Hong Kong
Rated: R
Events Overview:
Every Monday, 8:30 PM – Open Mic Comedy (Sign-up at 8 pm)
Every Tuesday, 8 PM – Movie Trivia Night with your hosts, Juli & Jamie! (Sponsored by Burnt City Brewing)
Sunday, March 18, Noon - 4 PM – Flicks & Flakes Bingo, Trivia, and Cereal Marathon
Coming soon:
Action Late Night Features in April