A Late Night at the Logan Series
Tues-Thurs night screenings | Fri-Mon night screenings
Tickets are $9 and available now
Featuring a month long set of must-see Late Night at the Logan films! Check out the schedule below, and don't miss your chance to see some of these knockout musicals on the big screen. Join us early and hang out at our bar or in our Lounge. Partake in something delicious from our special cocktail menu or enjoy any of your favorites from our fully stocked bar.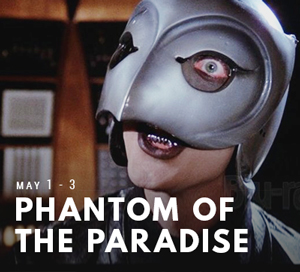 Phantom of the Paradise (1974) May 1-3 at 10:30 PM
A disfigured composer sells his soul for the woman he loves so that she will perform his music. However, an evil record tycoon steals his music to open his rock palace, The Paradise.
Director: Brian De Palma
Writer: Brian De Palma
Cast: Paul Williams, William Finley, Jessica Harper
Country: United States
Rated: PG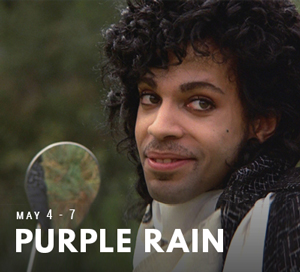 Purple Rain (1984) May 4-7 at 11 PM
A young musician, tormented by an abusive situation at home, must contend with a rival singer, a burgeoning romance, and his own dissatisfied band, as his star begins to rise.
Director: Albert Magnoli
Writers: Albert Magnoli, William Blinn
Cast: Prince, Apollonia Kotero, Morris Day
Country: United States
Rated: R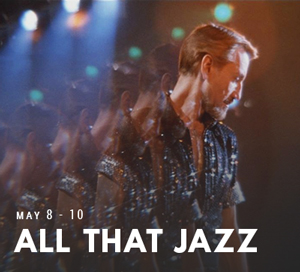 All That Jazz (1979) May 8-10 at 10:30 PM
Director/choreographer Bob Fosse tells his own life story as he details the sordid life of Joe Gideon, a womanizing, drug-using dancer.
Director: Bob Fosse
Writers: Robert Alan Aurthur, Bob Fosse
Cast: Roy Scheider, Jessica Lange, Leland Palmer
Country: United States
Rated: R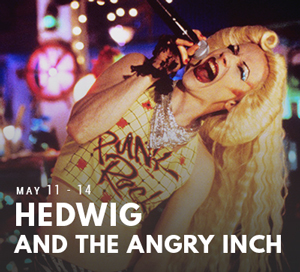 Hedwig and the Angry Inch (2001) May 11-14 at 11 PM
A transgender punk-rock girl from East Berlin tours the U.S. with her band as she tells her life story and follows the former lover/band-mate who stole her songs.
Director: John Cameron Mitchell
Writers: John Cameron Mitchell, Stephen Trask
Cast: John Cameron Mitchell, Miriam Shor, Stephen Trask
Country: United States
Rated: R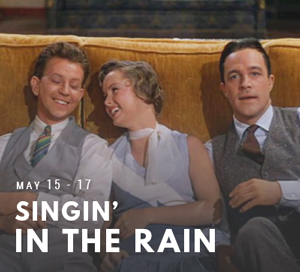 Singin' in the Rain (1952) May 15-17 at 10:30 PM
A silent film production company and cast make a difficult transition to sound.
Director: Stanley Donen, Gene Kelly
Writers: Betty Comden, Adolph Green
Cast: Gene Kelly, Donald O'Connor, Debbie Reynolds
Country: United States
Rated: G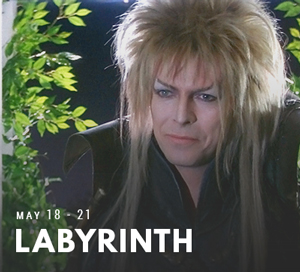 Labyrinth (1986) May 18-21 at 11 PM
A 16-year-old girl is given 13 hours to solve a labyrinth and rescue her baby brother when her wish for him to be taken away is granted by the Goblin King.
Director: Jim Henson
Writers: Dennis Lee, Jim Henson
Cast: David Bowie, Jennifer Connelly, Toby Froud
Country: United States | United Kingdom
Rated: PG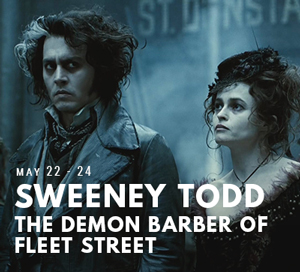 Sweeney Todd (2007) May 22-24 at 10:30 PM
In the falangist Spain of 1944, the bookish young stepdaughter of a sadistic army officer escapes into an eerie but captivating fantasy world.

Director: Guillermo del Toro
Writers: Guillermo del Toro
Cast: Ivana Baquero, Ariadna Gil, Sergi López
Country: Spain | Mexico | USA
Rated: R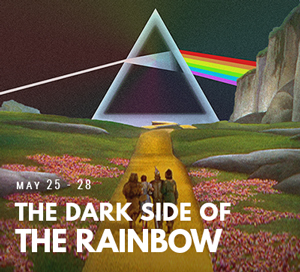 Dark Side of the Rainbow May 25-28 at 11 PM
The coincidental pairing of Pink Floyd's album The Dark Side of the Moon as the soundtrack to Victor Fleming's The Wizard of Oz mixes up our perceptions of each, revealing an entirely new flavor all together.
Film Director: Victor Fleming
Writers: Noel Langley, Florence Ryerson
Cast: Judy Garland, Frank Morgan, Ray Bolger
Country: United States
Rated: PG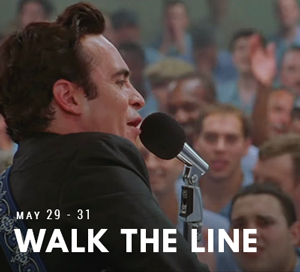 Walk The Line (2005) May 29-31 at 10:30 PM
A chronicle of country music legend Johnny Cash's life, from his early days on a cotton farm to his rise to fame with Sun Records in Memphis.
Director: James Mangold
Writers: Johnny Cash (book), James Mangold
Cast: Joaquin Phoenix, Reese Witherspoon, Ginnifer Goodwin
Country: United States | Germany
Rated: PG-13
Events Overview:
Every Monday, 8:30 PM – Open Mic Comedy (Sign-up at 8 pm)
Every Tuesday, 8 PM – Movie Trivia Night with your hosts, Juli & Jamie!
Sunday, May 20, Noon - 4 PM – Flicks & Flakes Bingo, Trivia, and Cereal Marathon
Coming soon: