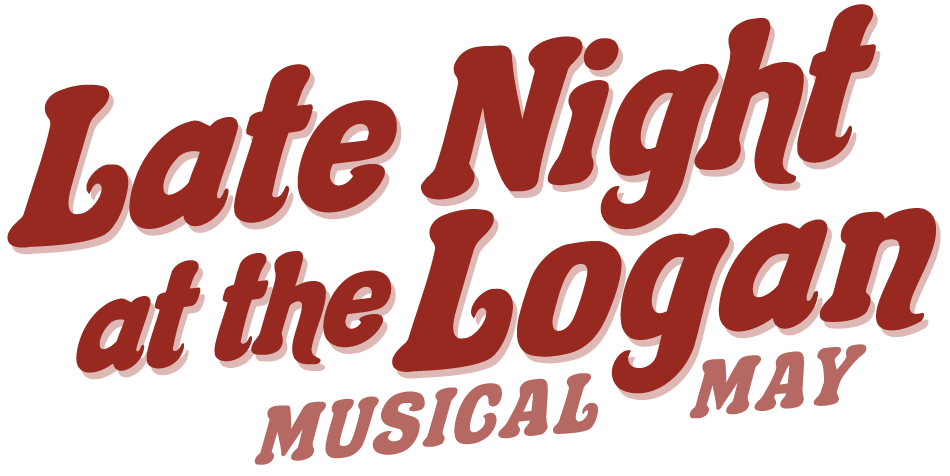 Tues-Thurs night screenings | Fri-Mon night screenings
Tickets on sale now
Featuring a month long set of must-see Late Night at the Logan films! Check out the schedule below, and don't miss your chance to see some of these classics on the big screen. Join us early and hang out at our bar or in our Lounge. Partake in something delicious from our special cocktail menu or enjoy any of your favorites from our fully stocked bar.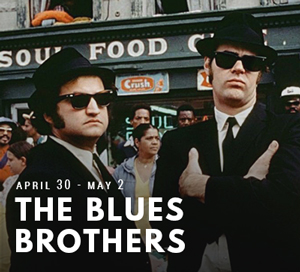 The Blues Brothers (1980) Apr 30 - May 2 at 10:30 PM
Jake Blues, just out from prison, puts together his old band to save the Catholic home where he and brother Elwood were raised.
Director: John Landis
Writers Dan Aykroyd, John Landis
Cast: John Belushi, Dan Aykroyd, Cab Calloway
Rated: R
Runtime: 2h 13min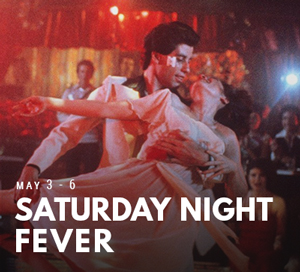 Saturday Night Fever (1977) May 3-6 at 11 PM
A 19 year old Italian American tries to escape the harsh reality of his bleak family life by dominating the dance floor at the local disco.
Director: John Badham
Writer: Nik Cohn, Norman Wexler
Cast: John Travolta, Karen Lynn Gorney, Barry Miller
Rated: R
Runtime: 1h 58min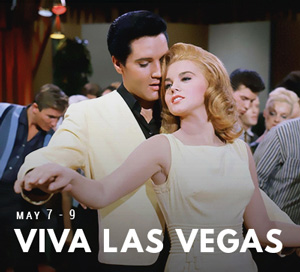 Viva Las Vegas (1964) May 7-9 at 10:30 PM
Race car driver Lucky Jackson goes to Vegas working as a waiter and still finding the time to court young Rusty Martin.
Director: George Sidney
Writer: Sally Benson
Cast: Elvis Presley, Ann-Margret, Cesare Danova
Rated: NR
Runtime: 1h 25min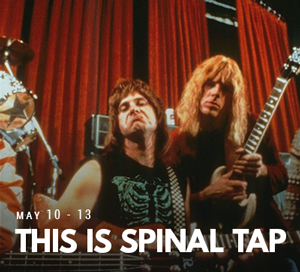 This is Spinal Tap (1984) May 10-13 at 11 PM
Spinal Tap, one of England's loudest bands, is chronicled by film director Marty DiBergi on what proves to be a fateful tour.
Director: Rob Reiner
Writer: Christopher Guest, Michael McKean
Cast: Rob Reiner, Michael McKean, Christopher Guest
Rated: R
Runtime: 1h 22min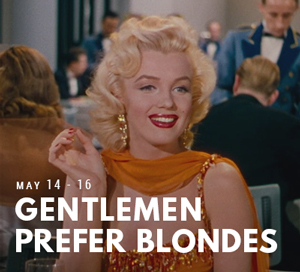 Gentlemen Prefer Blondes (1953) May 14-16 at 10:30 PM
Two showgirls travel to Paris, pursued by a private detective hired by the suspicious father of one's fiancé.
Directors: Howard Hawks
Writers: Charles Lederer, Joseph Fields
Cast: Jane Russell, Marilyn Monroe, Charles Coburn
Rated: NR
Runtime: 1h 31min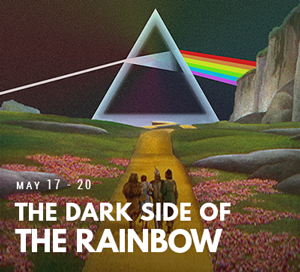 Dark Side of the Rainbow May 17-20 at 11 PM
The coincidental pairing of Pink Floyd's album The Dark Side of the Moon as the soundtrack to Victor Fleming's The Wizard of Oz mixes up our perceptions of each, revealing an entirely new flavor all together.
Film Director: Victor Fleming
Film Writers: Noel Langley, Florence Ryerson
Cast: Judy Garland, Frank Morgan, Ray Bolger
Rated: NR
Runtime: 1h 42min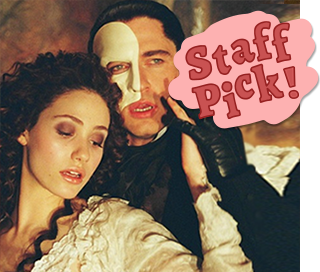 Phantom of the Opera (2004) May 21-23 at 10:30 PM
A young soprano becomes the obsession of a disfigured and murderous musical genius who lives beneath the Paris Opéra House.
Director: Joel Schumacher
Writers: Gaston Leroux, Andrew Lloyd Webber
Cast: Gerard Butler, Emmy Rossum, Patrick Wilson
Rated: PG-13
Runtime: 2h 23min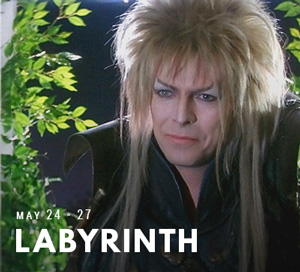 Labyrinth (1986) May 24-27 at 11 PM
A 16-year-old girl is given 13 hours to solve a labyrinth and rescue her baby brother when her wish for him to be taken away is granted by the Goblin King.
Writer: Jim Henson
Director: Dennis Lee, Jim Henson
Cast: David Bowie, Jennifer Connelly, Toby Froud
Rated: PG
Runtime: 1h 41min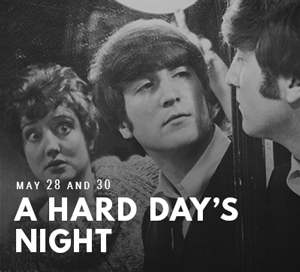 A Hard Day's Night (1964) May 28 and 30 at 10:30 PM
The Beatles struggle to keep themselves and Paul McCartney's mischievous grandfather in check while preparing for a live television performance.

Director: Richard Lester
Writers: Alun Owen
Cast: John Lennon, Paul McCartney, George Harrison
Rated: G
Runtime: 1h 27min
Events Overview:
Every Monday, 8:30 PM – Open Mic Comedy (Sign-up at 8 pm)
Every Tuesday, 8 PM – Movie Trivia Night with your hosts, Juli & Jamie!
Wednesday, May 15, 7 PM – Movie Club: the monthly movie showdown in The Logan Lounge
Fri-Mon, May 17-20, 11 PM – Dark Side of the Rainbow: Pink Floyd and Wizard of Oz Mashup
Wednesday, May 22, 7 PM – Sinema Obscura: meetup for local filmmakers in The Logan Lounge
Friday, May 24, 8 PM – Bowie Best Dressed Party