An annual Late Night at the Logan Series
Tues-Thurs night screenings | Fri-Mon night screenings
Tickets are $10 and available now
This October, The Logan Theatre features a long set of classic horror films throughout the month in the 8th annual Horror Movie Madness series. This month-long series features a one-night screening of the 1920 German Expressionist silent film The Cabinet of Dr. Caligari, accompanied by esteemed photoplay organist, Jay Warren, and culminates with a double-feature run Halloween (1978) and Halloween (2018).
Showtimes range from 10:30 pm to 11 pm, with a special, free family afternoon of matinees, as well as 9 pm screenings in the week leading up to the holiday. Costumes are welcome during designated festivities, especially on October 18th before the opening of Beetlejuice, at our annual Halloween Party.

Join us early and hang out at our bar or in the Lounge. Partake in a cryptic cocktail from our special cocktail menu or enjoy any of your favorites from our fully stocked bar.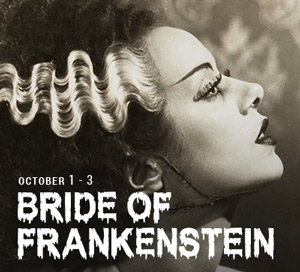 Bride of Frankenstein (1935) Oct 1-3 at 10:30 PM
Mary Shelley reveals the main characters of her novel survived: Dr. Frankenstein, goaded by an even madder scientist, builds his monster a mate.
Director: James Whale
Writer: Mary Shelley
Cast: Elsa Lanchester, Boris Karloff, Colin Clive
Country: United States
Rated: NR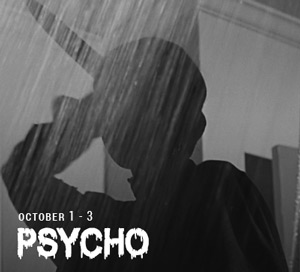 Psycho (1960) Oct 1-3 at 5 PM and 11 PM
A Phoenix secretary embezzles $40,000 from her employer's client, goes on the run, and checks into a remote motel run by a young man under the domination of his mother.
Director: Alfred Hitchcock
Writers: Joseph Stefano, Robert Bloch
Cast: Anthony Perkins, Janet Leigh, Vera Miles
Country: United States
Rated: R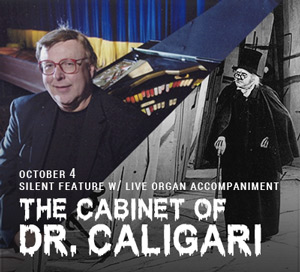 The Cabinet of Dr. Caligari (1920) Oct 4 at 10:30 PM
with live organ accompaniment by Jay Warren
Hypnotist Dr. Caligari uses a somnambulist, Cesare, to commit murders.
Director: Robert Wiene
Writer: Carl Mayer, Hans Janowitz
Cast: Werner Krauss, Conrad Veidt, Friedrich Feher
Country: Germany
Rated: R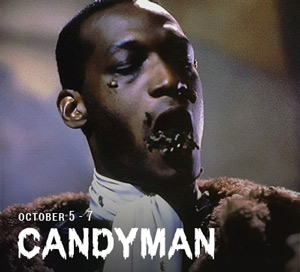 Candyman (1992) Oct 5-7 at 10:30 PM
A murderous soul with a hook for a hand, is accidentally summoned to reality by a skeptic grad student researching the monster's myth.
Director: Bernard Rose
Writers: Clive Barker, Bernard Rose
Cast: Tony Todd, Virginia Madsen, Xander Berkeley
Country: United States / UK
Rated: R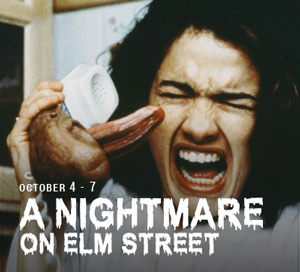 A Nightmare on Elm Street (1984) Oct 4-7 at 11 PM
Teenagers in a small town are dropping like flies and Nancy and her boyfriend Glen, must devise a plan to lure a monster out of the realm of nightmares into the real world.
Director: Wes Craven
Writers: Wes Craven
Cast: Heather Langenkamp, Johnny Depp, Robert Englund
Country: United States
Rated: R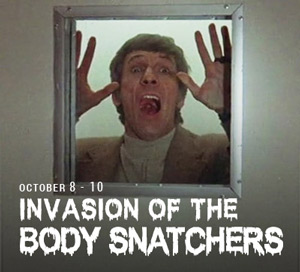 Invasion of the Body Snatchers (1978) Oct 8-10 at 10:30 PM
When seeds drift to earth from space, mysterious pods begin to grow and invade a small town, replicating the residents one body at a time.
Director: Philip Kaufman
Writers: W.D. Richter, Jack Finney
Cast: Donald Sutherland, Brooke Adams, Jeff Goldblum
Country: United States
Rated: R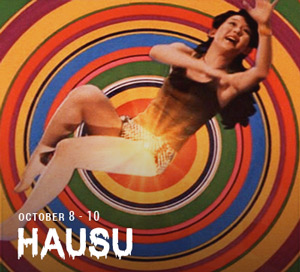 Hausu (1977) Oct 8-10 at 11 PM
A schoolgirl and six of her classmates travel to her aunt's country home, which turns out to be haunted.
Director: Nobuhiko Ôbayashi
Writers: Chiho Katsura, Chigumi Ôbayashi
Cast: Kimiko Ikegami, Miki Jinbo, Kumiko Ohba
Country: Japan
Rated: R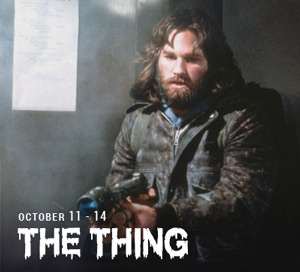 The Thing (1982) Oct 11-14 at 10:30 PM
A research team in Antarctica is hunted by a shape-shifting alien that assumes the appearance of its victims.

Director: John Carpenter
Writers: Bill Lancaster, John W. Campbell Jr.
Cast: Kurt Russell, Wilford Brimley, Keith David
Country: United States
Rated: R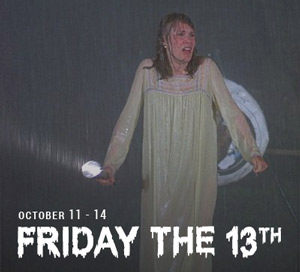 Friday the 13th (1980) Oct 11-14 at 11 PM
A group of camp counselors are stalked and murdered by an unknown assailant while trying to reopen a summer camp which, years before, was the site of a child's drowning.
Director: Sean S. Cunningham
Writers: Victor Miller, Sean S. Cunningham
Cast: Betsy Palmer, Adrienne King, Jeannine Taylor
Country: United States
Rated: R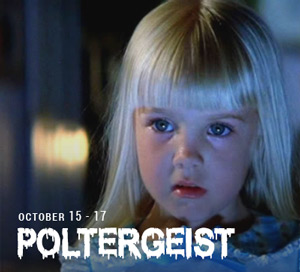 Poltergeist (1988) Oct 15-17 at 10:30 PM
When Steve Freeling realizes that something truly evil haunts his home, he calls in a team of parapsychologists to help before it's too late.
Director: Tobe Hooper
Writer: Steven Spielberg, Michael Grais
Cast: JoBeth Williams, Heather O'Rourke, Craig T. Nelson
Country: United States
Rated: PG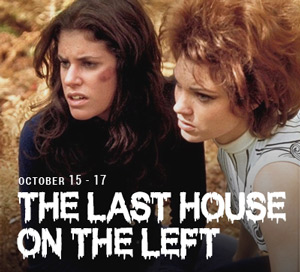 The Last House on the Left (1972) Oct 15-17 at 11 PM
Two teenages head to a rock concert. While trying to score marijuana in the city, they are kidnapped and brutalized by a gang of psychotic convicts.
Film Director: Wes Craven
Writer: Wes Craven
Cast: Sandra Peabody, Lucy Grantham, David Hess
Country: United States
Rated: UR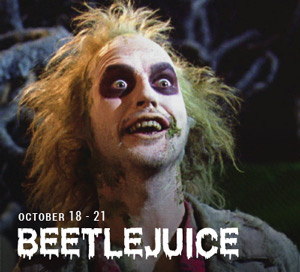 Beetlejuice (1980) Oct 18-21 at 10:30 PM
The spirits of a deceased couple are harassed by an unbearable family that has moved into their home, and hire a malicious spirit to drive them out.
Film Director: Tim Burton
Writer: Michael McDowell, Larry Wilson
Cast: Alec Baldwin, Geena Davis, Michael Keaton
Country: United States
Rated: PG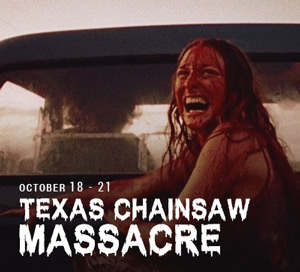 The Texas Chainsaw Massacre (1974) Oct 18-21 at 11 PM
Two siblings and some friends en route to visit their grandfather's grave in Texas end up falling victim to a family of cannibalistic psychopaths.
Film Director: Tobe Hooper
Writer: Kim Henkel, Tobe Hooper
Cast: Marilyn Burns, Edwin Neal, Allen Danziger
Country: United States
Rated: R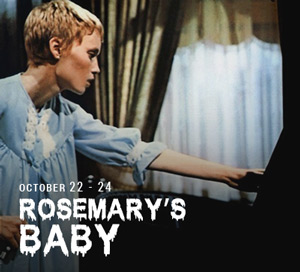 Rosemary's Baby (1968) Oct 22-24 at 10:30 PM
A young couple moves into an apartment with peculiar neighbors. When the wife becomes mysteriously pregnant, paranoia over the safety of her child takes over.
Film Director: Roman Polanski
Writers: Ira Levin, Roman Polanski
Cast: Mia Farrow, John Cassavetes, Ruth Gordon
Country: United States
Rated: R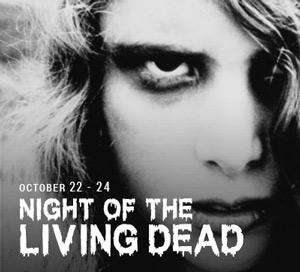 Night of the Living Dead (1968) Oct 22-24 at 11 PM
A ragtag group of Pennsylvanians barricade themselves in an old farmhouse to remain safe from a bloodthirsty, flesh-eating breed of monsters.
Film Director: George A. Romero
Writer: John A. Russo, George A. Romero
Cast: Duane Jones, Judith O'Dea, Karl Hardman
Country: United States
Rated: NR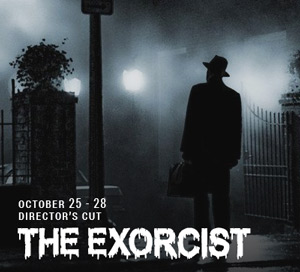 The Exorcist (1973) Director's Cut Oct 25-28 at 10:30 PM

When a teenage girl is possessed by a mysterious entity, her mother seeks the help of two priests to save her daughter.
Director: William Friedkin
Writer: William Peter Blatty
Cast: Ellen Burstyn, Max von Sydow, Linda Blair
Country: United States
Rated: R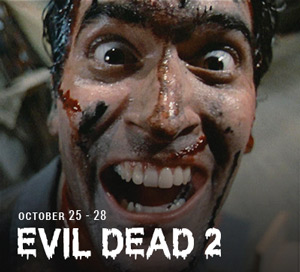 Evil Dead II (1987) Oct 25-28 at 11 PM
The lone survivor of an onslaught of flesh-possessing spirits holes up in a cabin with strangers while the demons continue their attack.
Film Director: Sam Raimi
Writer: Sam Raimi, Scott Spiegel
Cast: Bruce Campbell, Sarah Berry, Dan Hicks
Country: United States
Rated: R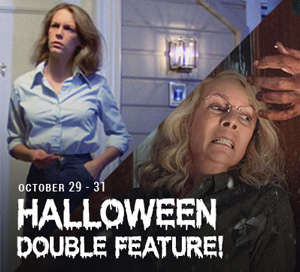 DOUBLE FEATURE
Halloween (1978 + 2019) Oct 29-31 at 9 PM
On Halloween a 6-yo Michael Myers brutally murdered his sister and returns years later his quiet hometown, looking for his next victims (1978). Jaime Lee Curtis reprises her role as Laurie Strode, coming to her final confrontation with Myers (2018).
Film Director: John Carpenter / David Gordon Green
Writer: John Carpenter, Debra Hill; Jeff Fradley, Danny McBride, & David Gordon Green
Cast: Jamie Lee Curtis, Donald Pleasence, Tony Moran; Judy Greer, Andi Matichak
Country: United States
Rated: R
Events Overview:
Every Monday, 8:30 PM – Open Mic Comedy (Sign-up at 8 pm)
Every Tuesday, 8 PM – Movie Trivia Night with your hosts, Juli & Jamie!
Friday, October 4, 10:30 PM – The Cabinet of Dr. Caligari with Live Organ Accompanist Jay Warren
Sunday, October 13, starting at 2 PM – Free Family Halloween Matinee
Sunday, October 13, 12 PM – Flicks and Flakes
Friday, October 18, 8 PM – The Logan's Annual Halloween Costume Party
Horror Movie Madness is brought to you by the Logan Theatre and the following partners: