Tues-Thurs night screenings | Fri-Mon night screenings
Tickets on sale now
Featuring a month long set of must-see Late Night at the Logan films! Check out the schedule below, and don't miss your chance to see some of these classics on the big screen. Join us early and hang out at our bar or in our Lounge. Partake in something delicious from our special cocktail menu or enjoy any of your favorites from our fully stocked bar.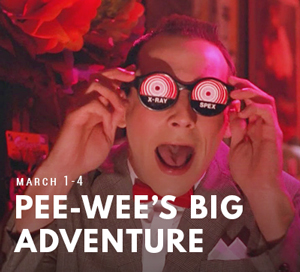 Pee-Wee's Big Adventure (1985) Mar 1-4 at 11 PM
When eccentric man-child Pee-wee Herman gets his beloved bike stolen in broad daylight, he sets out across the U.S. on the adventure of his life.
Director: Tim Burton
Writers Phil Hartman, Paul Reubens
Cast: Paul Reubens, Elizabeth Daily, Mark Holton
Rated: PG
Runtime: 1h 31min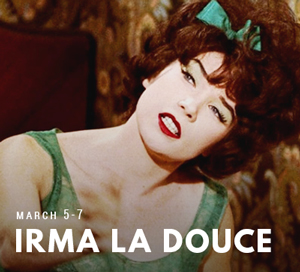 Irma La Douce (1963) Mar 5-7 at 10:30 PM
In Paris, a former policeman falls in love with a prostitute, and tries to get her out of that life by paying for all of her time.
Director: Billy Wilder
Writer: Alexandre Breffort, Billy Wilder
Cast: Jack Lemmon, Shirley MacLaine, Lou Jacobi
Rated: NR
Runtime: 2h 27min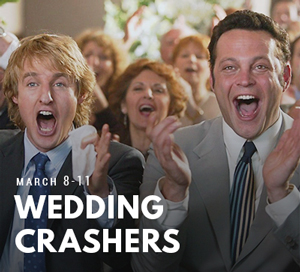 Wedding Crashers (2005) Mar 8-11 at 11 PM
John Beckwith and Jeremy Grey, a pair of committed womanizers sneak into weddings to take advantage of the romantic tinge in the air.
Director: David Dobkin
Writer: Neil Jordan
Cast: Owen Wilson, Vince Vaughn, Rachel McAdams
Rated: R
Runtime: 1h 52min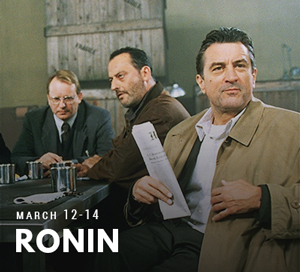 Ronin (1998) Mar 12-14 at 10:30 PM
A freelancing former U.S. Intelligence Agent tries to track down a mysterious package that is wanted by the Irish and the Russians.
Director: John Frankenheimer
Writer: J.D. Zeik
Cast: Robert De Niro, Jean Reno, Natascha McElhone
Rated: R
Runtime: 2h 2min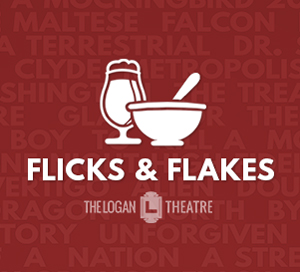 Flicks & Flakes Mar 10, Noon to 4 PM
LoganSquarist presents Flicks & Flakes: The Logan Lounge's monthly binge eating and binge watching event with a complimentary cereal bar, bingo, trivia, and drink specials!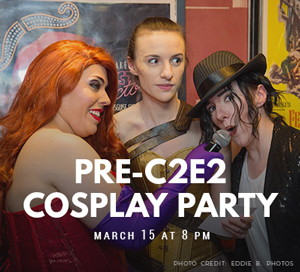 Pre-C2E2 Cosplay Party Mar 15, 8 PM
A week before the C2E2 Expo, come out and dry-run your cosplay and take this extra opportunity to show off your creative work for a chance to win great prizes!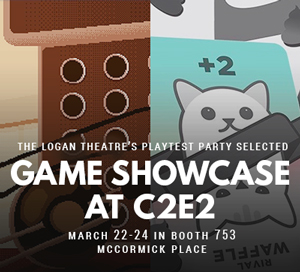 Game Showcase at C2E2 Mar 22-24, McCormick Place - Booth 753
Last November we hosted 24 in-development indie games for a night of playtesting and a juried competition for a booth space with The Logan Theatre in C2E2 2019. One video game and one table-top game were selected to be featured in our booth and they are: Cold Calling by Can't Get Enough Games, and Too Many Poops by Neat Games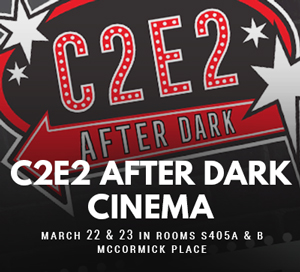 The Logan Theatre's C2E2 After Dark Cinema Mar 22 & 23, McCormick Place - Rooms S405A and S405B
Exciting news: The Logan Theatre will be bringing the cinema to C2E2! We'll be showing 5 features - Teenage Mutant Ninja Turtles (1990), Wayne's World (1992), The Princess Bride (1987), Metropolis (2001), and Clueless (1995) with a 90s pre-party, so plan your cosplay accordingly!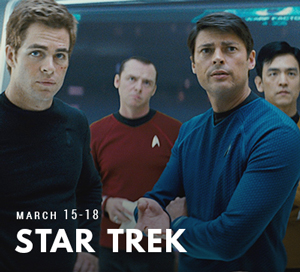 Star Trek (2009) Mar 15-18 at 11 PM
James T. Kirk tries to live up to his father's legacy with Mr. Spock keeping him in check as a vengeful Romulan creates black holes to destroy the Federation one planet at a time.
Directors: J.J. Abrams
Writers: Roberto Orci, Alex Kurtzman
Cast: Chris Pine, Zachary Quinto, Simon Pegg
Rated: PG-13
Runtime: 2h 7min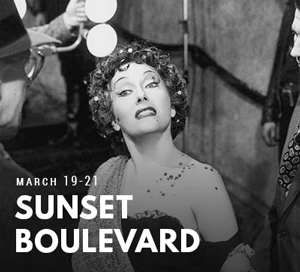 Sunset Boulevard (1950) Mar 19-21 at 10:30 PM
A screenwriter is hired to rework a faded silent film star's script, only to find himself developing a dangerous relationship.
Directors: Billy Wilder
Writers: Charles Brackett, Billy Wilder
Cast: William Holden, Gloria Swanson, Erich von Stroheim
Rated: NR
Runtime: 1h 50min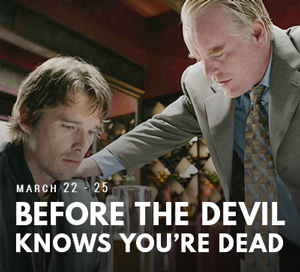 Before the Devil Knows You're Dead (2007) Mar 22-25 at 11 PM
When two brothers organize the robbery of their parent's jewelry store the job goes horribly wrong.
Director: Sidney Lumet
Writers: Kelly Masterson
Cast: Philip Seymour Hoffman, Ethan Hawke, Albert Finney
Rated: R
Runtime: 1h 57min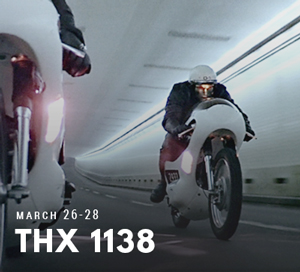 THX 1138 (1971) Mar 26-28 at 10:30 PM
In the twenty-fifth century, a time when people have designations instead of names, a man, THX 1138, and a woman, LUH 3417, rebel against their rigidly controlled society.

Director: George Lucas
Writers: George Lucas
Cast: Robert Duvall, Donald Pleasence, Don Pedro Colley
Rated: R
Runtime: 1h 26min
Events Overview:
Every Monday, 8:30 PM – Open Mic Comedy (Sign-up at 8 pm)
Every Tuesday, 8 PM – Movie Trivia Night with your hosts, Juli & Jamie!
Sunday, March 10, Noon to 4 PM – Flicks & Flakes Cereal and Bingo
Friday, March 15, 8 PM – Pre-C2E2 Cosplay Party
March 22-24, All Day – The Logan Theatre's Game Showcase at C2E2
March 22 & 23, After Showfloor – The Logan Theatre's C2E2 After Dark Cinema
These March events are brought to you by the Logan Theatre and the following partners: