A Late Night at the Logan Series
Tues-Thurs night screenings | Fri-Mon night screenings
Tickets are $9 and available now
Featuring a month long set of must-see Late Night at the Logan films! Check out the schedule below, and don't miss your chance to see some of these films on the big screen. Join us early and hang out at our bar or in our Lounge. Partake in something delicious from our special cocktail menu or enjoy any of your favorites from our fully stocked bar.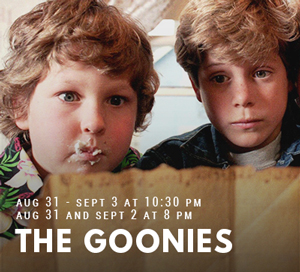 The Goonies (1985) Aug 31 - Sept 3 at 10:30 PM, Aug 31 at 8 PM, Sept 2 at 8 PM
In order to save their home from foreclosure, a group of misfits set out to find a pirate's ancient valuable treasure.
Director: Richard Donner
Writers: Steven Spielberg, Chris Columbus
Cast: Sean Astin, Josh Brolin, Jeff Cohen
Country: United States
Rated: PG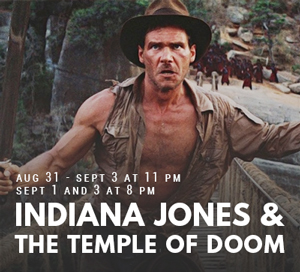 Indiana Jones and the Temple of Doom (1984) Aug 31 - Sept 3 at 11 PM, Sept 1 at 8 PM, Sept 3 at 8 PM
Indiana Jones arrives in India in search of a mystical stone. He then stumbles upon a secret cult enslaving and sacrificing people in the catacombs of an ancient palace.
Director: Steven Spielberg
Writers: Willard Huyck, Gloria Katz
Cast: Harrison Ford, Kate Capshaw, Jonathan Ke Quan
Country: United States
Rated: PG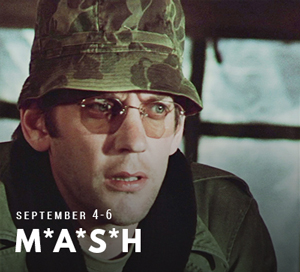 M*A*S*H (1970) Sept 4-6 at 10:30 PM
The staff of a Korean War field hospital use humor and high jinks to keep their sanity in the face of the horror of war.
Director: Robert Altman
Writers: Richard Hooker, Ring Lardner Jr.
Cast: Donald Sutherland, Elliott Gould, Tom Skerritt
Country: United States
Rated: R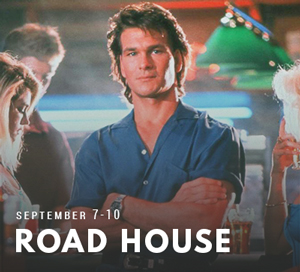 Road House (1989) Sept 7-10 at 11 PM
A Ph. D-educated bouncer has been hired to tame a rowdy bar. He might not look like much, but proves he's more than capable -- busting heads to turn the roadhouse around.
Director: Rowdy Herrington
Writer: R. Lance Hill
Cast: Patrick Swayze, Kelly Lynch, Sam Elliott
Country: United States
Rated: R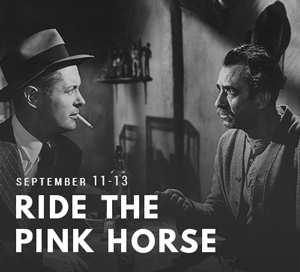 Ride the Pink Horse (1947) Sept 11-13 at 10:30PM
The mysterious and laconic Gagin arrives in San Pablo on a mission to find the equally mysterious Frank Hugo, evidently for revenge. Or is it... for blackmail?
Director: Robert Montgomery
Writers: Ben Hecht, Charles Lederer
Cast: Robert Montgomery, Thomas Gomez, Wanda Hendrix
Country: United States
Rated: NR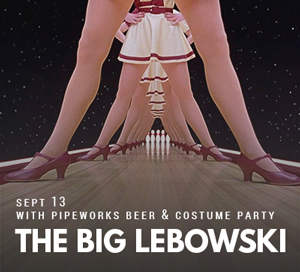 The Big Lebowski (1998) Sept 13 at 10 PM
With Pipework Brewing Tap Party at 7 pm
"The Dude", mistaken for a millionaire, seeks restitution for his ruined rug.
Director: Joel Coen & Ethan Coen
Writers: Joel Coen & Ethan Coen
Cast: Jeff Bridges, John Goodman, Julianne Moore
Country: United States, United Kingdom
Rated: R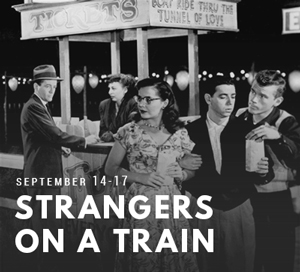 Strangers on a Train (1951) Sept 14-17 at 11 PM
A psychotic socialite attempts to force a professional tennis star to prove a theory that two complete strangers can get away with murder.
Director: Alfred Hitchcock
Writers: Raymond Chandler, Czenzi Ormonde
Cast: Farley Granger, Robert Walker, Ruth Roman
Country: United States
Rated: PG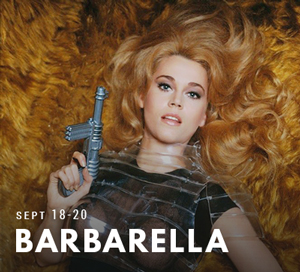 Barbarella (1968) Sept 18-20 at 10:30 PM
Barbarella, an astronaut from the 41st century, sets out to find and stop the evil scientist Durand Durand, whose Positronic Ray threatens to bring evil back into the galaxy.

Director: Roger Vadim
Writers: Jean-Claude Forest
Cast: Jane Fonda, John Phillip Law, Anita Pallenberg
Country: Italy | France
Rated: PG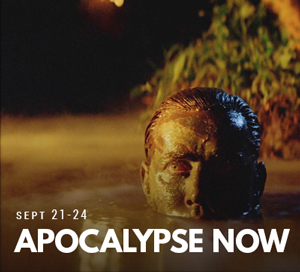 Apocalypse Now (1979) Sept 21-24 at 11 PM
During the Vietnam War, Captain Willard is sent on a dangerous mission into Cambodia to assassinate a renegade Colonel who has set himself up as a god among a local tribe.
Film Director: Francis Ford Coppola
Writers: John Milius, Francis Ford Coppola
Cast: Martin Sheen, Marlon Brando, Robert Duvall
Country: United States
Rated: R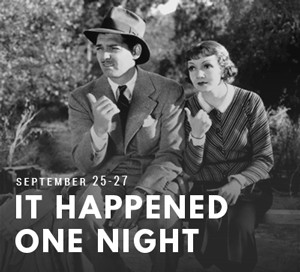 It Happened One Night (1934) Sept 25-27 at 10:30 PM
A spoiled heiress running away from her family is helped by a man who is actually a reporter in need of a story.
Film Director: Frank Capra
Writer: Robert Riskin, Samuel Hopkins Adams
Cast: Clark Gable, Claudette Colbert, Walter Connolly
Country: United States
Rated: NR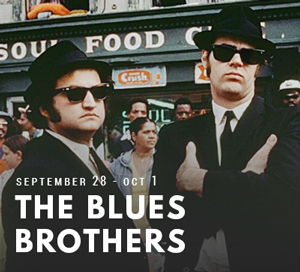 The Blues Brothers (1980) Sept 29-30 at 10:30 PM
Jake Blues, just out from prison, puts together his old band to save the Catholic home where he and brother Elwood were raised.
Film Director: John Landis
Writer: Dan Aykroyd, John Landis
Cast: John Belushi, Dan Aykroyd, Cab Calloway
Country: United States
Rated: R
Events Overview:
Every Monday, 8:30 PM – Open Mic Comedy (Sign-up at 8 pm)
Every Tuesday, 8 PM – Movie Trivia Night with your hosts, Juli & Jamie!
Thursday, September 13, 7 PM – The Big Lebowski and Beer Tap Party
Saturday, September 15, 7 PM – Akira 30th Anniversary Party